Whatever you're looking to sell, we can help. Check out our favourite types of gadget.
Gadget GoGo
The easy way to sell gadgets online
 It's exciting to get a brand new gadget. Especially when your new shiny gadget has bigger and better technology and features. However, this does usually make your older version go to the bottom of the pile; after all, you don't need outdated technology anymore. However, you don't have to let your old electronics go to waste. There's no point leaving old, unwanted gadgets to collect dust. This is where Gadget GoGo can help so you can sell gadgets online.
Gadget Gogo is the stress-free way to sell gadgets online. You don't have to worry about waiting for a buyer; you don't even need to come up with a product page or description, and you definitely don't have to worry about the stress of an online auction. Simply tell Gadget GoGo what unwanted gadget you have, state its condition and well offer you a price. It really is that easy!
Once you are happy with the Gadget GoGo quote, print out the free postage label, box up your old gadgets and drop it off at your local Post Office. It's the easiest way to make cash out of your old stuff.
Sell gadgets online
If you're having a clear out and looking for ways to make money out of your old devices, then Gadget GoGo can help. We will buy a whole host of unwanted gadgets, whether you're looking sell my iPad, sell my camera, or even sell an iPod.
Step 1
Find the gadget/s you wish to sell!
Step 2
Post them to us using our free label
Step 3
Sit back, and get paid within 48h
Step 1
Using our easy search box, find the gadget you wish to sell, choose the condition of your item, accept the quote and complete the check out.
Step 2
Package up your item, print out your free prepaid postage label and drop it off at your local Post office.
Step 3
Sit back, put your feet up and get paid, we pay all our customer within 48h of receiving their item.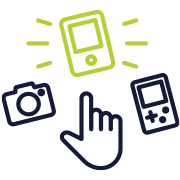 Biggest Selection Of Gadgets
Gadget GoGo offer to buy a huge range of gadgets at highly competitive prices, we offer the largest range of Gadgets for you to sell online.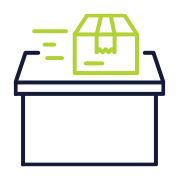 Free Postage
We offer free postage on all your orders, simply place your order and print your label.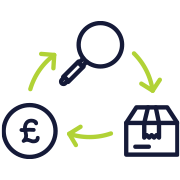 Simplicity
Selling your unwanted gadgets couldn't be easier – simply follow our 3 step guide to sell your gadget.
Fast & Easy Payments
Gadget GoGo pay all customers within 48h of receiving their items – We offer payments through PayPal and Bank Transfer.